We have broad-based capabilities for peptide synthesis: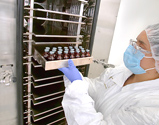 represents... the American Peptide Company in the UK and Europe.
The APC website can be accessed by clicking on the APC logo

The American Peptide Company
(APC) recently announced its new 'Total Peptide Management' programme, which it is calling "the first of its kind". Under the programme, the company said it now offers the life sciences industry "a broad portfolio of peptides, value-added services, and expert consultation to support customer needs as their drug products move from discovery to development and commercialisation." The article in Outsourcing-pharma can be seen by clicking "here".